Click battle is an interesting tower defence game whereby you will be required to protect villagers from the Vikings over a period of five months.
A small Celtic village has come under attack by evil Vikings.  For a long time, the Celts are known to be skilled in magic, but can their magic stop the evil Vikings? Protect yourself from the evil Vikings even before the attack begins. Use your knowledge and skills to construct traps and buildings that you will use to fight against the Vikings invasion.
When the battle begins click on similar colour wizards to launch an attack on incoming enemy forces. Fill up your magic and use it to cast spells against the enemies.  Acquire more power by quickly clicking on groups in succession. The bigger the group you click, the more power you get and vice versa.
During game play; Use the Keyboard key Q to view the Wall health; Key W to toggle specialist; Key E to view accumulated gold coins. Use your gold coins to upgrade your defence system.
Click Battle Screen Shots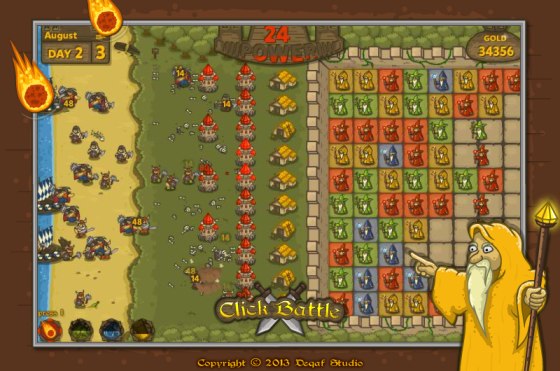 Game Categories